Summer Art Camp in Hong Kong Parkview
Please enroll all the courses in Hong Kong Parkview, 88 Tai Tam Reservoir Road, Hong Kong (Tel: 2812 3949).
For other information, please contact Mrs Davies at 9332 0424 or email: info@club4art.com
Creative ArtiCraft (Age 3 - 5)
Students are able to learn how to use different
media and materials, such as painting, clay, papier mache to produce their own creative art works.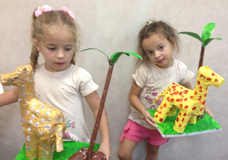 Creative Art
Master Painting (Age 4 - 9)
The techniques of different styles of painting will be explored in this workshop. The styles of famous artists of different periods will also be taught in this programme.
As a result, students are able to produce their own masterpieces..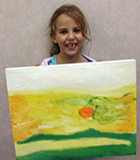 Master Painting
Chinese Painting & Calligraphy (Age 5 - 11)
Traditional Chinese painting techniques and styles of using Chinese brushes, ink, and colour on Chinese paper will be taught. Different motifs of Chinese paintings, such as landscape, flora and fauna will also be explored in this course.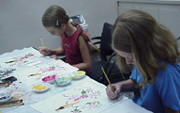 Chinese Painting & Calligraphy